Call 602-909-7002
Phoenix house cleaning service - cleaning guarantee
Phoenix housekeeping company // residential cleaning services // commercial cleaning services
How Clean Is Your Cleaning Company?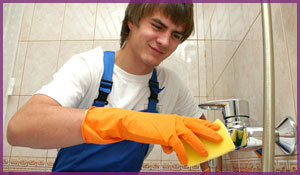 When you hire a cleaning company, the last thing in the world you would expect to do is clean up after they're gone. Yet all too often, that is exactly what ends up happening. They didn't mop the kitchen floor. They didn't vacuum the dog hair off the couch. They didn't dust the computer screen or anything else on the desk for that matter. Whatever the oversight, the point is that your housecleaning service or commercial cleaning service is not meeting your expectations, and yet you're expected to pay for it.
Instead of cleaning it yourself, complaining to an unsympathetic cleaning company or switching services altogether, take some preventative measures by hiring a Phoenix house cleaning service that offers a 100 percent cleaning guarantee on their work. More importantly, hire a Phoenix housekeeping company that welcomes the opportunity to send the cleaning crew back out to finish the job – be it residential cleaning services, commercial cleaning services or otherwise.
As Pretty In Pink Cleaning Services has learned through the years, making good on their promise to get the job done right is of the utmost importance to its client base in the Phoenix metro area. As long as a customer calls within 24 hours of a cleaning job, Pretty In Pink will send its crew back out with detailed instructions for correcting whatever failed to meet your expectations.
Yet as open as they are to correcting cleaning oversights, the key to Pretty In Pink's success stems from the obvious – getting it right the first time! And they have a number of policies and practices in place to help ensure just that.
The more they clean your home or commercial space, the better a cleaning crew is going to get at understanding and meeting your expectations. That's why Pretty In Pink makes it a priority to send the same crew out home every time, a goal easily achievable thanks to the company's high employee retention rate.
Pretty In Pink also makes it a policy that every crew includes at least one English-speaking member. That way you are always assured an easy, open line of communication – be it asking them to do something better or thanking them for a job well done.
Of course, the most essential element of a cleaning job well done is the competency and skills of those tasked with the job. Every Pretty In Pink employee receives on-the-job training from a veteran member of the crew who closely oversees their work to ensure that it meets the highest of cleaning standards.
If you are looking for a Phoenix house cleaning service that gets the job done right every time – for residential cleaning, commercial cleaning or otherwise – contact Pretty In Pink Cleaning Services for a free cleaning estimate today.
« Previous Article | Back To Articles | Next Article »
Need a Quote? Click Here!